Digital File Embedding
With Building Files, your document management will be easier than ever. Find the exact document for that specific piece of equipment or hardware instantly.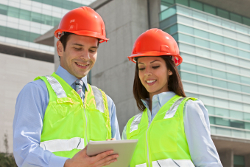 Building Files technicians will accurately and quickly embed any and all documentation you require into your actual plans. Our file embedding tools accept any file type. Allowing you to embed photos, video, equipment submittals, O&Ms, warranties, service records, specifications, or project reports into interactive floor plans. Our unique platform enables you to quickly make the paperless transition.
Our embedding application is a cost effective 2D alternative to expensive 3D software, and the training takes minutes, not days or weeks. This service is a powerful addition to any facility or construction management system for organizing documents. Document embedding is the next generation in construction close-out documentation and is a sustainable service. Whether you are looking to maintain or eliminate your old paper filing system, 3-ring binders or migrate to a new digital filing system moving forward, our embedding services are a cost effective alternative.
Why 2d instead of 3D?
2D is familiar and easy to learn
Drastically faster location of embedded files
Greater sense of location
Smaller, faster files
No expensive hardware required
No additional drivers or software required
Compatible with all modern web browsers on PC, MAC, or Mobile devices
It's a simple fact that 3D models and applications have more visual information, and while this can be very useful in some applications, more information can also get in the way. For handling the indexing and management of documents we have found it is far quicker to look at a floor plan and instantly see the piece of equipment you need to locate than trying to position and maneuver a virtual camera thought a 3D model to find the documents for one sprinkler head.